Geoffrey Hogan (M.Ost) – Osteopath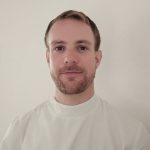 Geoffrey began his training at the British School of Osteopathy in 2006, graduating with a distinction and earning a Master of Osteopathy degree.
He has years of experience, treating all sorts of injuries from head to toe since 2008.
His treatments incorporate several different approaches, including Western Acupuncture and Balanced Ligamentous Tension, both of which he has completed further training in.
He believes in ensuring that the patient has received a full explanation of the nature of their injury and why it has happened so that they can avoid a re-occurrence in the future.
By providing easy and appropriate stretches and advice to the patient he involves them in their own healing process so that they can regain control over their own healing.
Geoffrey is a keen runner, swimmer, gym goer and a fair-weather cyclist. He enjoys treating all musculo-skeletal injuries including sports injuries, neck pain, back pain and general aches and pains.
In July 2013 Geoff completed further training in Cranial Osteopathy.
Book an Osteopathy treatment with Geoff by calling our reception team on 0207 206 2681 or to book online click here
Find out more about Geoff here