Welcome to Farringdon Osteopaths in Clerkenwell, EC1
Near the border of two boroughs, we serve the local Islington and Camden communities of Farringdon and Clerkenwell, EC1 as well as Bloomsbury and Holborn, WC1 and Kings Cross, Finsbury and Angel in N1.
Click here to find us on Google Maps
Our clinic is right around the corner from the bustle of Exmouth Market near Mount Pleasant Post and Sorting Office at 96 Farringdon Road, EC1R 3EA.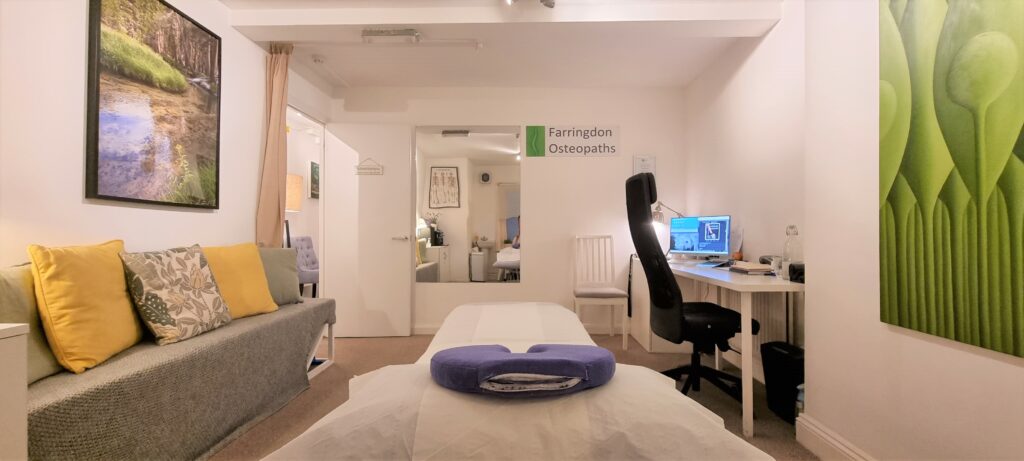 Everyone deserves pain free movement. We are a small team of Osteopaths specialised in treating muscle and joint pain, postural strains and sports injuries.
Established in 2001, Farringdon Osteopaths has been proudly serving the local community for over 20 years. We look forward to continuing that tradition long into the future from our home on Farringdon Road.
Osteopathy is a hands-on approach to treatment that restores movement and improves circulation to accelerate your recovery.
As part of your treatment you will be provided with advice on injury management and prevention to get you back to 100% in the quickest time possible.
Easily located on Farringdon Road, right by the Mount Pleasant Post and Sorting Office, and opposite the Old Fire Station, we are within walking distance of Farringdon, Kings Cross, Angel, Chancery Lane, Blackfriars and Holborn stations.
We are registered with BUPA, Vitality, Cigna, WPA, Simply Health and Exeter heath insurance providers and also accept patients with cash back plans such as Medicash and Health Shield.
Click here to book online or if you'd prefer you can speak to our friendly receptionist to book or ask a question by calling 0207 206 2681.
Alternatively, feel free to email a question first at hello@farringdonosteopaths.co.uk
Please read our privacy notice here before your visit.
Our Osteopaths are highly trained, fully insured and registered with both the General Osteopathic Council and the Institute of Osteopathy.